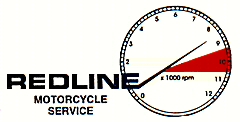 Kawasaki 900/1000 Online Parts Catalog / Main Index
Orders are taken by e-mail : at - jim@redlinecycle.com
***Note - The phone numbers still seen on misc. pages of our site are no longer in service
This page last updated: 11-2-22
NOTE ON PRICING IN OUR ONLINE CATALOG:
As with everything else you buy today >
Prices are rising fast in the world of vintage motorcycle parts In many cases we are unable to
re-price the items in our catalog to keep up. At the same time, the availability of some parts
has also been adversely affected.
On submitting your parts needs by e-mail, we will provide you with current availability and cost.

Orders are taken by e-mail : at - jim@redlinecycle.com
> For info on how to order or check on parts from us...... Click Here
Payments taken by PayPal / Money Orders / Checks on domestic orders
Payments are only be taken by PayPal on international orders
...
Click on category headings below for product details..... For a few important details about our catalog:Click Here
Accessories
Air Cleaners
Air Cleaner Box Ducts and Related Parts
Alternator (AC Generator) & Parts Click Here .... For Old Kaws and other Bikes we've Sold
Batteries / AGM Maintenance - Free Click Here ..... For a look into a KZ engine being rebuilt
Big Bore Piston Kits
Body Sidecovers and Parts
Bolts / Nuts / Washers - (See Hardware Listings)
Brake Parts / Caliper (Info on brake identification in this section)
Brake Master Cylinder Assemblies
Brake Parts / Drum Hardware
Brake Parts / Lines
Brake Parts / Master Cylinder
Brake Parts / Pads & Shoes
Brake Parts - Discs & Rotors
Cables ......For all 900& 1000 models **We have thousands of excellent used parts for
Kaw 900's and 1000's.....All guaranteed!!
Carburetors and Related Parts
Case Savers / Engine Guards
Chain, Sprockets, and Related Parts
Chainguards
Chassis Electrical Parts > (Main Electrical Parts Index)....
Clutch Components
Crankcase Vent Filters
Decals / Misc.
Decals & Emblems - Fuel Tank
Decals & Emblems / Sidecover
Engine Covers / New & Used
Engine Gaskets
Engine Guards Send E-Mail to: jim@redlinecycle.com
Engine Oil Seals / O-Rings / Oil Windows
Engine Parts / Internal > (Main Engine Parts Index)......Check out our KZ Engine Rebuild pages....
Engines / Complete & Major Engine Components
Updated 5-7-17 > Demand for Kaw 900 - 1000 Engines is high - But we have a few nice ones -
Exhaust Systems and Related Parts
Fender Eliminator Kits
Fenders
Foot Controls: Pedals / Kicker / Shift Lever & Parts
Footpegs & Related Parts
Front Fork / Steering Head & Related Parts
Fuel Filters
Fuel Injection (KZ1000G - Z-1 Classic) Parts
Fuel Petcocks & Related Parts
Fuel Tank Decals & Emblems
Gas Caps & Related Parts Send E-Mail to: jim@redlinecycle.com
Gaskets / Engine
Grab Bars & Handles - Seat
Handle Levers & Parts
Handlebar Switches
Handlebars / Grips
Hardware - Specialty Fasteners / Chassis
Hardware - Specialty Fasteners / Engine
Headlights & Related Parts
Ignition Coils
Ignition Switches / Locks
Ignition Systems and Parts - Electronic ...Aftermarket and Kawasaki factory ....
Ignition Systems and Parts - Point Ignition
Ignition Wires and Parts
Intake Manifolds and Parts
Kickstarter Send E-Mail to: jim@redlinecycle.com
Locks / Ignition Switches
Meters (speedo/tach) & Related Parts
Mirrors
Oil Coolers & Parts
Oil Filters and Oil Change Hardware
Oil Pressure Switch & Boot
Oil Seals / O-Rings - Engine
Piston Kits - 903cc Stock Overbore
Piston Kits - KZ1000 Drop-In
Reflectors
Rubber Parts - Dampers / Grommets / Mounts
Seats and Related Parts
Shock Absorbers....... 10% off repro Z-1 / KZ900-1000 shocks
Sidecovers (Body) and Related Parts
Sidecover Decals and Emblems
Speedometers / Tachometers & Related Parts
Sprockets and Related Parts
Stands & Stand Parts New > Adjustable Side Stand
Starter Clutch Parts
Steering Damper / Bracket ..... NOW IN STOCK!
Swingarms & Related Parts
Tail Lites & Related Parts
Tail Storage Tray
Tail Section
Tires And Related Parts
Tools / Tool Kits & Pouches
Transmission Parts
Turn Signals and Related Parts
Wheels and Related Parts
Wire Harness
Z1-R Specific Parts
If you don't see it here, that doesn't mean we don't have it.... Send E-Mail to: jim@redlinecycle.com
Yes – Redline Cycle is still open, and selling a full inventory of Kaw 900 & 1000 parts from our online catalog:
There are over 4000 pages on our website, and our old phone numbers (no longer in service) will all be deleted from all the pages over time.
We take orders via e-mail (jim@redlinecycle.com) and payment by PayPal / Checks / Money Orders – - We no longer take credit cards
Please give us the year & model of your Kaw - - Please state your payment preference, and your shipping zip code (or international location - International orders are shipped by USPS Priority Mail only - The rate based on your specific location). ….. and I'll send you an invoice,and a PayPal payment request, or, if necessary, a mailing address for your payment - - And just in case, your phone number
If a phone call becomes necessary, it will happen.
What can we do for you? Jim Goebel / Mgr. / Redline Cycle Svc., Inc.