Redline Cycle Service, Inc.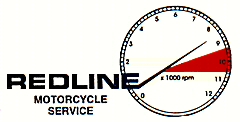 To order > E-mail us at > jim@redlinecycle.com
Cables & Cable Hardware
We stock a large assortment of aftermarket and Kawasaki OEM
cables for all the 1973 thru 1980 900'.s and 1000's......
In most situations, the aftermarket cables do the job as well as the
originals, and for a lot less money. .....When we find that the
aftermarket items don't do the job, we use Kaw originals.....
For misc. cable parts and brackets.... Click here
Standard Aftermarket Cables.........
Clutch Cables (Std.) : $27.95 each
Clutch Cable : For superbike bars: $29.95 each
Throttle Cables>
Std. - For Z1 / KZ900A / KZ1000A / Z1-R: $20.95 ea.
For LTD models: $23.95 ea.
For superbike bars: $24.95 each

Tach Cables / Std. > $25.95 each
2" Extended tach cable / oil cooler applications .....$31.95
Speedo Cables: $22.95 each
For dual-disc applications $25.95 each
Special Kawasaki OEM Cables.......
Speedo - For 1973 thru 1979 dual-disc
front brake applications
$32.95 each
Speedo- For 1976 thru 1979 900 & 1000
LTD models $32.95 each
Speedo - For 1980 1000 models...........
$29.95 each
Throttle - For 1973 thru 1977 Z-1 /
KZ900 restorations .......
$49.00 each (special ord.)
Lube your cables before installation....
Cable Luber Tool
>
Kawasaki OEM Cable securing hardware:
Left: Tach & Speedo Cable holders.............. $5.49 each
Right: Clutch cable holder ....... $6.99 each
Bands - Cable & Wire Securing


Here's a nice resto item....

Kawasaki OEM NOS cable & wire securing bands......
Add that nice touch to your Kaw 900/1000 restoration with the original factory cable ties .......

Left: Medium length (5.75 inch overall length) for securing wiring to frame members....
$4.59 each

Right: Short length (4.75 inch overall length) for securing wiring to handlebars.....
$4.29 each

In Stock at Redline Cycle



Kawasaki OEM / NOS cable guides for most 1973 thru 1980 900 & 1000 models.......

Left or Right $23.95 each

Set / NOS $45.00

Used $9.95 each

Limited Availability on NOS pieces

Lube your cables before installation....
Cable Luber Tool

E-mail us at . jim@redlinecycle.com