Redline Cycle Service, Inc.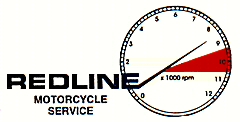 Any item shipped U.S. Mail / UPS to anywhere in the world
Sidestand / Centerstand & Parts / Side Stand Repair Bracket
We usually have a selection of side stands and centerstands in stock, and all the associated parts.....
At one time, these stands were a dime a dozen, and we had many used ones in stock......
Like a lot of old Kaw parts, the supply of good used ones is drying up, and in recent years,
we have sometimes found our inventory gone.......
Call toll-free at 877-271-9292 to check current prices and availability of used stands and parts...
....Lots of stuff on this page...Scroll down....
New repro side stand........

The stand shown in this set is a high-quality repro of the stand used on all 1973 thru 1977 Z-1 and KZ900A models....It is a direct fit on these bikes, with or without the original exhaust..........
It will also fit the frame and can be used on 1977 thru 1980 1000 models......If using an original exhaust on these bikes, fit of this stand in its retracted position should be checked in relation to the mufflers......

*Ideal for all 76 - 80 LTD models to cure the "excessive lean" situation of these bikes while on the side stand....
Complete set as shown $79.95
Stand only $64.95
Hardware Set Only $35.95

Limited Availability: From "In Stock" to 3 week wait
New Repro center stand.... Imported from Japan....

From the factory, all 1973 thru 1980 Kawasaki 900 & 1000 models have the lugs on the bottom of the frame to mount a centerstand - - Although some models didn't come with one when new...... Some models not so equipped due to the exhausts they used, or for styling purposes....

This stand is in the design of the common type used on the 1973 thru 1980 Z-1 / KZ900A / and KZ1000A models.....

New stand w/all hardware $239.95
Stand only $169.95

Limited Availability: From "In Stock" to 3 week wait
*A centerstand can be used as a tool for servicing your Kaw without being permanently mounted to the bike, as a temporary work stand.... Used stands make a more reasonable choice here....
Call toll-free at 877-271-9292 to check our stock of used stands...
For all 900 & 1000 models ........

Top: Center Stand shafts and nuts (2 per bike)
New / Used OEM shafts NLA (see below)

New Kawasaki NOS shaft nuts $3.99 each

Bottom Left: Center Stand springs......
Repro Spring (bright zinc plate) Temp. unavailable
Current Kawasaki OEM (black anodized) $10.99 each

Bottom Right: Side Stand springs.........
Repro Spring (bright zinc plate) $15.95 each
Current Kawasaki OEM (black anodized) $15.95 each

Availability on repro springs is limited ........


tEMP


...................

For all 1973 thru 1980 900 & 1000 models ....

New Japanese-made repro centerstand shaft & nut sets.........

2 per bike .............

$28.95 per set (1 shaft / 1 nut)

In Stock at Redline cycle


............................
For all 900 / 1000 models using a non-original exhaust and retaining the center stand -

Kerker-type centerstand stop bracket keeps the retracted centerstand from hitting the exhaust megaphone -

Installs under the center stand pivot nut (pivot shaft and nut not included with this stop)
$20.99 each
Limited Availabilty
Sidestand / centerstand rubber bumpers:

Pictured left / Bottom RH corner -
Centerstand (large bumper) fits 1973 thru 1977 Z-1 & KZ900 with original exhaust........ $3.50 each

Side stand (small bumper) fits 1973 thru 1977 Z-1 & KZ900 with original exhaust........ $4.25 each


Pictured center - Side stand bumper for KZ1000A model stand.....
$4.25 each

In Stock at Redline Cycle
Kawasaki OEM sidestand mount bolt for all 1973 thru 1980 900 & 1000 models..........

$4.95 each

In Stock at Redline Cycle
Side stand weld-on repair bracket -
If your Kaw 900 or 1000 frame is missing it s side stand bracket --
No worries - this ready to weld on bracket is the answer -
For all 1973 thru 1980 Kaw 900 & 1000 models -
From In-Stock to 3 week wait $104.95
e-mail us at > jim@redlinecycle.com