Redline Cycle Service, Inc.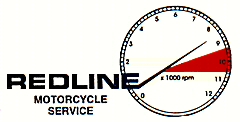 Case Savers / Engine Guards
This page last updated 12-9-21
We sometimes have good, used sets of engine guards in stock at less cost, and sets with minor damage that are
not as pretty as new, but still do the job..... E-Mail us at > jim@redlinecycle.com
Note - The MC Enterprises case savers (1st entry on this page) have been discontinued,
and are no longer being manufactued by M/C
When possible, we have used sets which have been re-plated and are nicer than new originals ,
which are now basically non-existent.
Other brands of these case savers are also sometimes available.
Please E-Mail us at > jim@redlinecycle.com to see what we currently have.....
>>> See our recently added Stainless Steel 3-point case savers below >
Case guards for all 1973 thru 1984 Kawasaki 900 / 1000 / 1100 models:



These high quality, 3 point case guards fit all 1973 thru 1980 Kawasaki 900 & 1000 models.
Excellent quality chrome plating.......
Better thsn new......

Shown at Left >
How they used to look new > Many moons ago

The left guard uses a u-bolt for the center mount.
The stock lower motor mounts will work fine.
Don't settle for the far lower quality 2 point case savers...they have a tendency to simply fold up on any impact with the ground, and go right into the dyno cover or point cover anyway.
These might not only save your motor covers, they might also make the difference between driving it home or having it towed..........might save your leg too.
Re-Plated Sets > $389.00 to $419.00
Limited Availability
- E-Mail for info:
jim@redlinecycle.com

We currently have 2 sets of nicer used M/C case savers available -

Priced $ 199 To $249.00 >>>> E-Mail for info:
jim@redlinecycle.com

For 1981 thru 1984 KZ1000 & KZ1100 models -
Production of these 3 -point case savers was discontinued 4 years ago............... VERY limited availability
$379.00
Ultra-High quality / Ultra Strong - - Stainless Steel 3-point case gaurds for all 1973 thru 1980 Kaw 900 & 1000 models .........
Complete with hardware shown -
From Japan - - Limited Availability $364.00

E-Mail us at > jim@redlinecycle.com for info