Redline Cycle Service, Inc.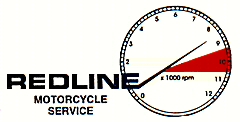 Any item shipped U.S. Mail / UPS to anywhere in the world
Handlebar Switches / Modified Bar Switches / Hardware / Parts / Kawasaki OEM Wire Ties
Lots of Pics & Stuff on this Page....... Scroll all the way down.....

New, reproduction hanndlebar switches are a direct plug in replacement for all 1973 to 1977 Z-1 & KZ900 models....

NOT FOR KZ1000 MODELS... (See Listing below)

Same color coded wiring as original switch........Wiring designed for external (outside handlebar) routing....

An easy way to fix all those problems with your old bar switches...

We have found these to be very good quality, and often use them on our project bikes.... $69.95 for all 900 models

In Stock at Redline Cycle

NOTE: For 1977 thru 1980 KZ1000 Models > These switch assembles, a plug-in installation on 900 models....Will not plug into or work on any of the 1977 theru 1980 KZ1000 Models
However, We can modify them to work on 1977 thru 1980 KZ1000 models...
We can provide these switches, professionally modified, with OEM-Style terminals, to directly plug into the wire harness of any 1977 thru 1980 KZ1000 model...... Prices vary by application......
In the process, you will lose your hazard flasher switch - - But will gain a headlight "ON-OFF" function on those models that don't have it from the factory - - And you will also gain external (outside the bars) wiring on the 1977-78 models that come with thwe wiring inside the bars


Just Ask Us........ E-Mail to jim@redlinecycle.com.

Samples of our modified switches for the 1979 & 1980 KZ1000 models /
Prices vary by year & model......

................
Same descriptuion as LH switch above.......

New, reproduction right handlebar switch is a direct plug in replacement for all 1973 to 1977 Z-1 & KZ900 models....

$69.95 for all 900 models

In Stock at Redline Cycle
Here's a nice resto item....

Kawasaki OEM NOS cable & wire securing bands......

Add that nice touch to your Kaw 900/1000 restoration with the original factory cable ties .......

Left: Medium length (5.75 inch overall length) for securing wiring to frame members....
$4.59 each

Right: Short length (4.75 inch overall length) for securing wiring to handlebars.....
$4.29 each

In Stock at Redline Cycle
>>>
For all 1973 thru 1980 900's and 1000's......

Replace those often stripped and ugly looking handle bar switch screws.......

All 5mm X 30mm / 5mm X 35mm / 5mm X 40 lengths in stock....

$0.99 each
| | |
| --- | --- |
| ...............>>>>> | |
For most 1973 thru 1980 Kawasaki 900 & 1000 models......
Dimmer switch assembly..... The most commonly failing part on the Kaw 900 / 1000 handlebar switches
At left: HD switch assy: Stronger than Kawasaki OEM......At Right: (For reference) Kawasaki OEM dimmer (NLA)
$49.00 Availability Limited
NEW NOS Kawasaki OEM right hand switch assembly....

Originally for the 1977-78 KZ1000A models (with internal wiring - inside the handlebar), this new Kaw switch can be easily adapted to many 1000 models to fit as an internal or external wiring switch..........

5 wire configuration with male bullet ends......Black, brown, brown/white, blue/white, and yellow/red wires.....

This will solve your right-hand switch problems in a hurry - and for good......
NLA / SOLD $169.00

>>>>>>>>>>>>>>>>
New Kawasaki OEM left side switch

For the 1977-78 KZ1000A models (with internal wiring - inside the handlebar), this new Kaw switch can be easily adapted to many 1000 models to fit as an internal or external wiring switch..........
None currently available



For 1980 KZ1000B4 / LTD -
1 new Kawasaki OEM LH Available > $199.00

e-mail us at > jim@redlinecycle.com