Redline Cycle Service, Inc.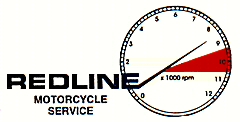 Back to Main Catalog Index
Intake Manifolds & Parts
The common thinking on intake manifolds for Kaw 900's and 1000's is dead wrong........
An owner will not see any external cracking on the wall of the manifold and assume it is not leaking vaccuum.....
While this is often true on other Jap bikes, it is not with these Kaws.......
Kaw 900 & 1000 intake manifolds develop their leaks where they seal to the head.......
A major problem that is unseen when they are mounted.......
Note > Many of the "bargain" manifolds sold on the web today are junk - -
Not a good item to cheap out on ....
Ours are OEM quality - - Made in Japan by the guys who make them for Kawasaki -


New, OEM quality intake manifolds for all 1973 thru 1980 Kaw 900 & 1000....
Most of the 900's and 1000's on the street have never had these manifolds replaced - and what a difference new manifolds make!!

They may not be cracked on the outside, but your old manifolds are not sealing to the head like they used to.....


Compare yours to the contact side of the new manifold shown at the bottom left - -
A new manifold has the raised lip at the contact surface to provide a good seal =
With age, and heating and cooling cycles, this lip deteriorates, and then in time disappears altogether.

These come with the manifold plugs as shown.
While you're at it, replace the screws that hold them on....make it nice! We also stock the new OEM clamps (seen below on this page).

Manifolds / set of 4 $154.00
Mounting screws (8) $6.00
Kawasaki OEM clamp (4) $9.99 ea.

In Stock at Redline Cycle



>>>>>>>>>>>>>
Have you had enough of those old, rusty manifold clamps with the stripped screws? Try these............
New Kaw OEM intake manifold clamp for all 73 to 80 900 & 1000 models.

In stock at Redline Cycle
$9.99ea.


>>>>>>>>>>>>
For mounting Mikuni RS series carbs to the Kaw 900 or 1000 cylinder head....These new manifolds are a direct bolt-on.....New phillips screws for mounting recommended -
We sell 2 types >

Those for use with stock non-ported heads > $129.00 set / 4

Ans special sets for ported & 1981 & Later heads > $169.00 set / 4


Includes new mounting screws / set of 8

Kawasaki OEM clamp (4) $10.99 ea.

In Stock at Redline Cycle




>>>>>>>>>>>
Intake clamps for the Mikuni RS series carbs......

Top: Kawasaki OEM clamp ............ $10.99 each

Bottom: Mikuni clamp
(as supplied with RS carb kits) .....$2.85 each


>>>>>>>>>>>>>>
Kaw OEM manifold plugs for all 73 to 80 900's & 1000's.....Old, loose fitting plugs can cause vaccuum leaks.

In stock at redline Cycle
$5.99 ea.


>>>>>>>>>>
New black anodized screws for airbox duct clamps, and intake manifold clamps.......

Top: 25mm length for the intake manifolds

Bottom: 30mm length for the airbox ducts

NLA
To order - e-mail us at > jim@redlinecycle.com