Redline Cycle Service, Inc.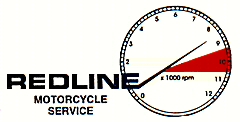 Seat Grab Bars & Handles
New, reproduction seat grab bar - very nice quality, Made in Japan.......

Original equipment on all 1973 thru 1977 Z-1 900, KZ900, and 1977-78 KZ1000A models.......Will also fit the frame on 1976 and later 900LTD and 1000 LTD models for use with the flat "A" type seat......
$79.95 each

Special Order From Redline Cycle


Note: We also have a limited supply of new, Kawasaki OEM NOS grab rails of this type on hand....Call for prices....
For all 1976 thru 1980 900 & 1000 LTD models.....

Available USED ONLY......

The seat grab rail for the LTD models has long been unavailable from Kawasaki.......We have a selection of used ones in nice shape, and often in re-plated.....

Call us for availability and prices......
New, Japanese-made reproduction of Kawasaki part # 32109-1004.......

Original equipment on 1978 & 1980 KZ1000D (Z1-R) models, and 1979 & 1980 KZ1000A models........

These nice handles will mount to the frame of any 1973 thru 1980 Kawasaki 900 or 1000 model.....

Excellent for bikes without a seat grab rail for getting a grip to put the bike up on the centerstand........
$32.99 each
In Stock at Redline Cycle
e-mail us at > jim@redlinecycle.com