Redline Cycle Service, Inc.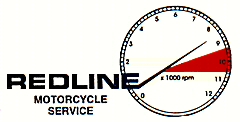 Any item shipped U.S. Mail / UPS to anywhere in the world
Master Cylinder Assemblies: Front & Rear
We have a large selection of new and used front & rear master cylinders for all the 900's and 1000's
on hand...... We have only listed a few of them here...... E-Mail us at jim@redlinecycle.comif you need one that is
not pictured on this page......



| | |
| --- | --- |
| .............. | .... |
These Japanese-made front master cylinders are suitable for single or dual-disc operation, and are excellent quality....
Made to the design of the Kawasaki OEM front master cylinders that came with the factory dual-disc kit.....
This kit, made for the 1973 thru 1978 single-disc models, was available in the 1970's and early 1980's....
........Can be used on all 1973 thru 1980 single or dual-disc models (except KZ1000D / Z1-R)......

Comes with lever and all hardware........

$169.00 In Stock

NEW!! > From Japan -
New repro trapezoid from master cylinders for either single or dual-disc setups -
No more trying to fix that used leak-prone master on your bike =
Very nice quality.....Complete with lever.....
$289.00 Limited Availabilty


Used trapezoid Front master cylinders for the 1978 thru 1980 1000 models...

These "trapezoid" master cylinders were used on both single disc and dual disc 1000 models from 1978 thru 1980.....In the Kawasaki OEM parts system, they also supersede the round chamber cylinders used on the 1976 & 1977 KZ900B & KZ1000B (LTD) models.........

New, NOS Kawasaki OEM assemblies are no longer available

We often have rebuilt trapezoid masters for all single and dual-disc applications.......

Shown here is one of our rebuilt masters for the dual-disc 1000 models.......

E-Mail us at > jim@redlinecycle.com for current availability & pricing.....



Rear master cylinder assemblies......

Shown is the rear master as used on the 1977 thru 1979 KZ1000A / B / and D models.......

Master cylinders for other years amd models also often in stock...

Our master cylinders are inspected, and then rebuilt with Kawasaki OEM parts........

Sold with or without master cap and diaphragm.......

E-mail us at > jim@redlinecycle.com for current availability & pricing.....
Front Master Cylinder for 1978-1980 Z1-R Models:
Rebuilt with factory parts - Ready to install and bleed - Limited Availability........
$499.00 Limited Availability
e-mail us at > jim@redlinecycle.com