Redline Cycle Service, Inc.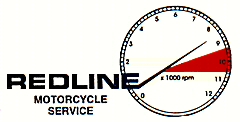 Any item shipped U.S. Mail / UPS to anywhere in the world
Piston Kits - KZ1000 Drop-In - High & Standard Compression

2 different ways to freshen up you KZ1000 engine without having to bore the cylinders,
Or give your 900 engine some easy extra power without taking the bottom end apart.....


Tighten up your KZ1000 engine ........
High-quality forged pistons are standard 70mm bore / Drop in / No boring necessary for
all 1977 thru 1980 KZ1000 models......
Kit includes 4 pistons / 4 ring sets / 4 wristpins / 8 pin clips..... $549.00
1 - .020 cylinder base gasket included..........
Raises compression to 10.25 to 1 (from the stock 8.5 to 1)...Using standard .020 thick base gasket....
Optional compression ratios down to 9.5 to 1 using special Base Gaskets .....
Reduce compression by using 2 - .020 cylinder base gaskets.......
Addl. base gasket - $9.95
Either our 1 piece or 2 piece Head Gaskets can be used with this kit......
All parts shown are also available individually.......
These pistons can also be used in Z-1 / KZ900 cylinders (3mm / .120 overbore)

If you want to freshen up your KZ1000 - And take a bunch of the wear out of that cylinder ....
But want to keep it as close to stock as possible......
Kawasaki OEM / NOS STD (70mm / 1015cc) piston set for all 1977 thru 1980 1000 engines ....
Compression is the standard 8.5 to 1.....Clearance at .002.....
This set comes complete with rings & piston clips............
Pins are available seperately - If you can't use your existiong ones
(1 set currently available)............ $499.00 per set
E-Mail us at > jim@redlinecycle.com