Redline Cycle Service, Inc.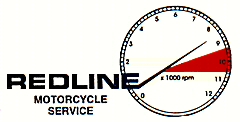 Back to Main Catalog Index
Valve Cover Gaskets
For all 1973 to 1978 900 & 1000 models.....

This gasket fits all the earlier models without the Kawasaki Clean Air System........

As good as OEM Kawasaki quality at less than half the price....

In Stock at Redline Cycle......

$28.95 each
Tech Note:
Note: Check your Cam End Seals before replacing the cam cover.....If they show signs of leaking or have moved out of position when removing the cover, replace them now - or you're doing it all over again sooner than you'd like....Don't
use sealer under your stock / aftermarket rubber end seals.
For 1979 and 1980 1000 models......

This gasket has the additional holes for the Kawasaki Clean Air System......

As good as OEM Kawasaki quality at less than half the price....

In Stock at Redline Cycle......

$28.95 each

See our note above about Cam End Seals
E-Mail us at > jim@redlinecycle.com