Redline Cycle Service, Inc.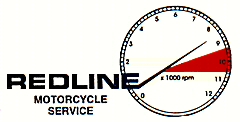 1973 Kawasaki Z-1 900
Redline Project 2015
SOLD
High-Perf Street Bike
Building a bone-stock Z-1 garage queen NOT our intention here -
This bike was built to RUN!!!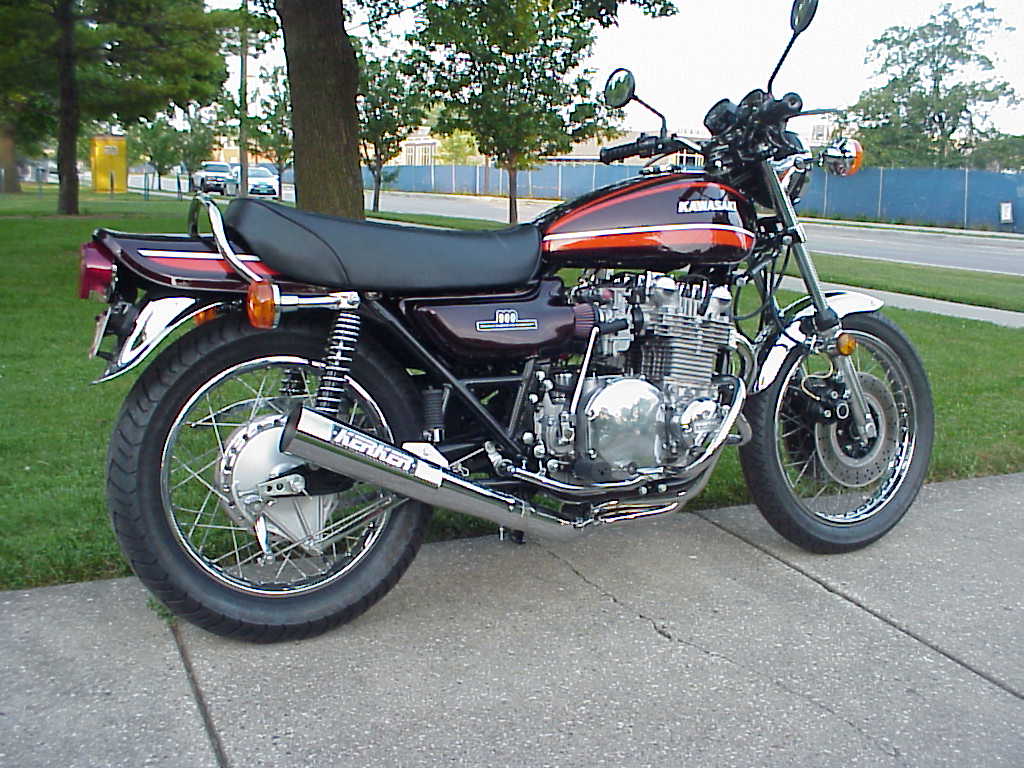 First - The finished product above......
Yes - This 73 Z-1 wears 1974 Candy Brown-Orange colors......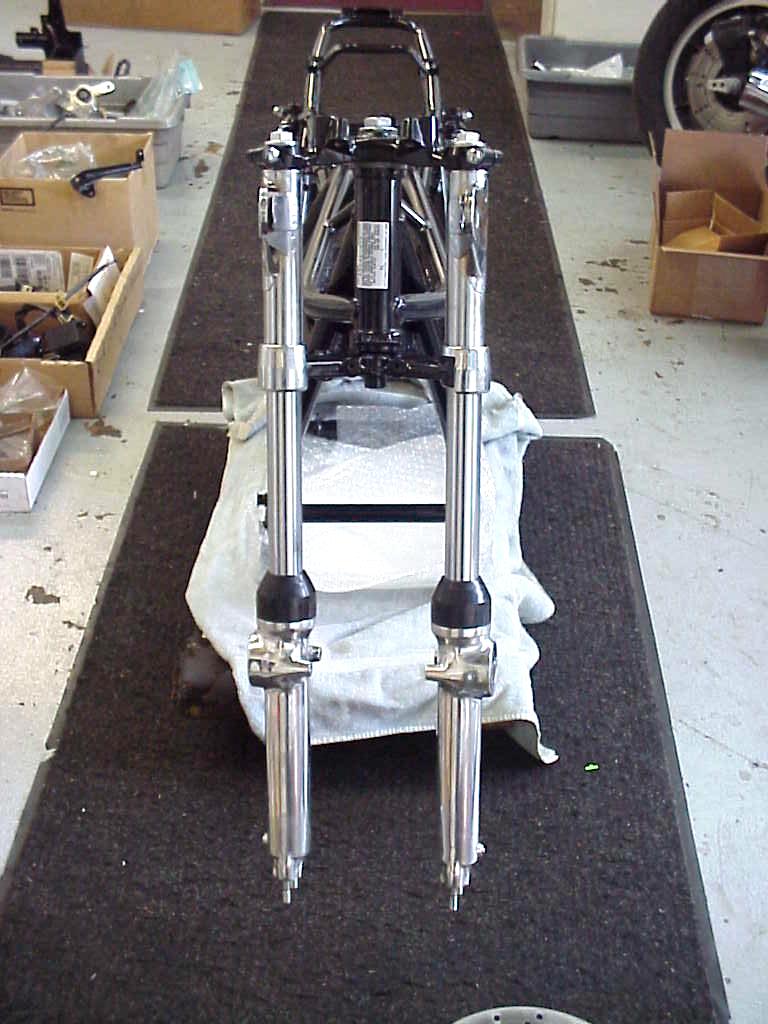 Our 1973 Z-1 Project Bike at the rolling chassis stage.
The frame, swingarm. and all chassis parts are powder-coated.....
Tapered Steering Head Bearings , professionally polshed fork legs
(to match the engine covers)
At left - The repro VIN tag - Unique to Redline Cycle Project Bikes... We do not sell these...
Progressive Shocks will handle the rear suspension duties....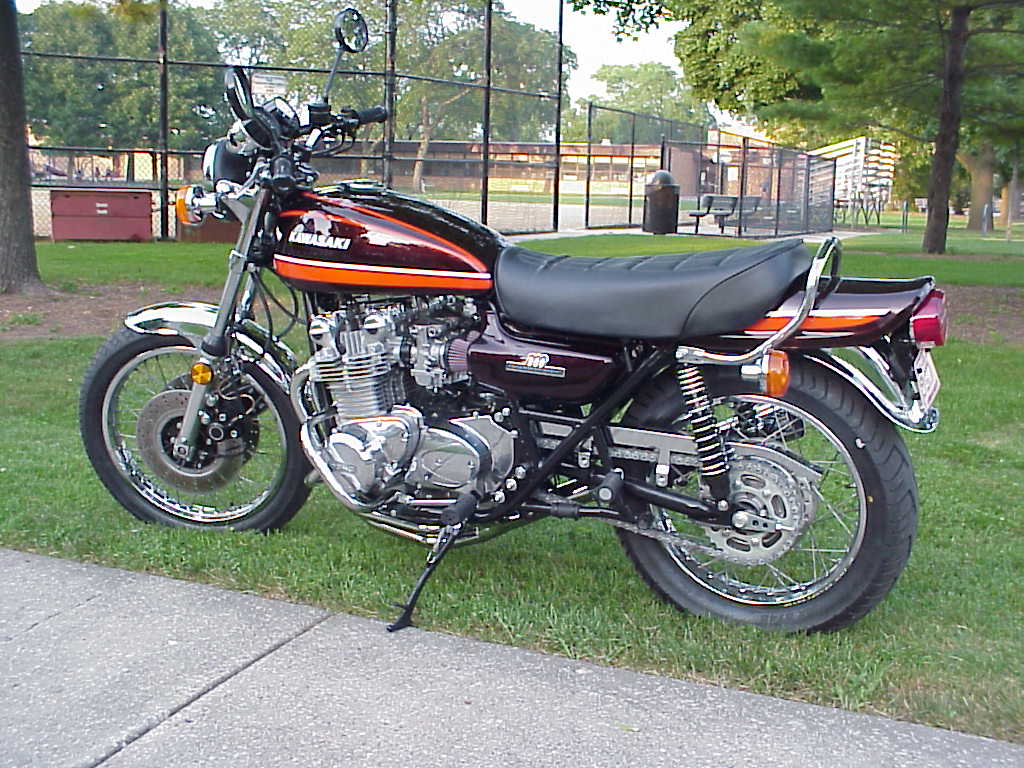 The stock Z-1 frame has been strengthened by adding additional
supports at weak spots to prevent flexing. (See more below)

This bike will also have dual front discs with
drilled rotors, and the calipers mounted behind the fork legs ....
The frame itself, and the stock swingarm -
along with the triple trees, battery box, motor mounts, and other frame
fittings have been powder coated semi-gloss black.

Chassis also features Progressive shocks , forks upgraded with later
KZ1000 parts. and a needle-bearing swingarm pivot kit.....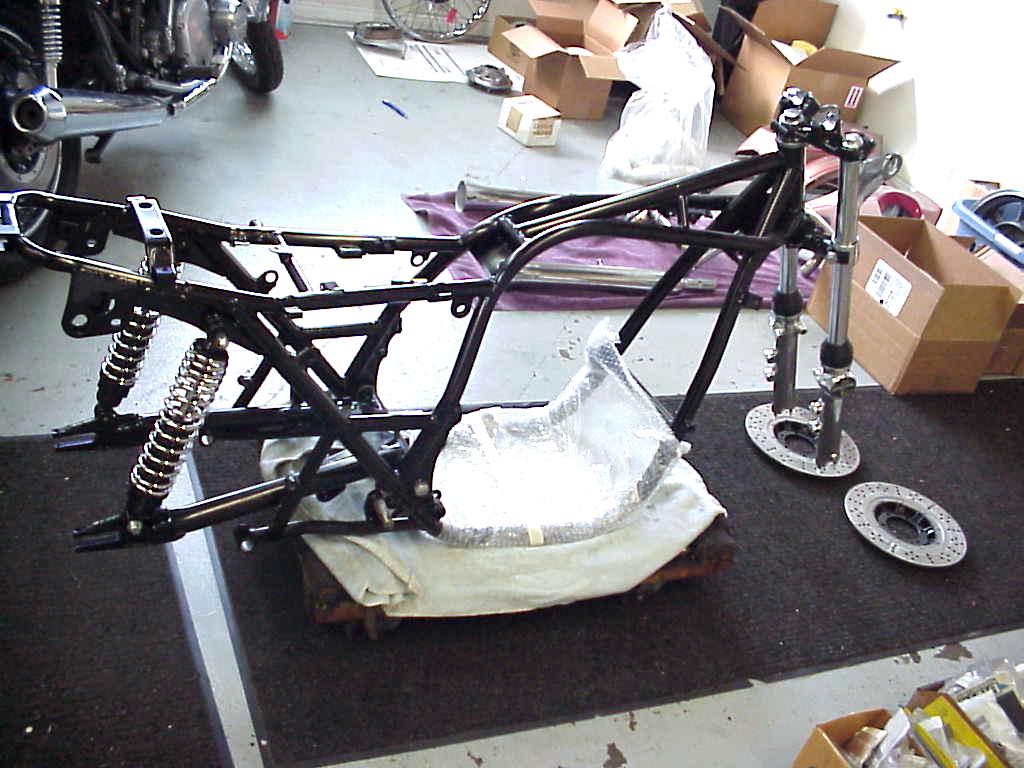 The base plans for this bike call for a 1075cc engine with performance
cams, and a specially re-jetted set of stock Z-1 28mm carbs.
Also offered was a special 1135cc engine with Mikuni RS carbs as
an option, raising the horsepower to over 100 (which also would add $2000
to the cost of the bike).
The Buyer of this bike opted for the high-perf engine, as seen below during the
test-driving / final jetting stage.....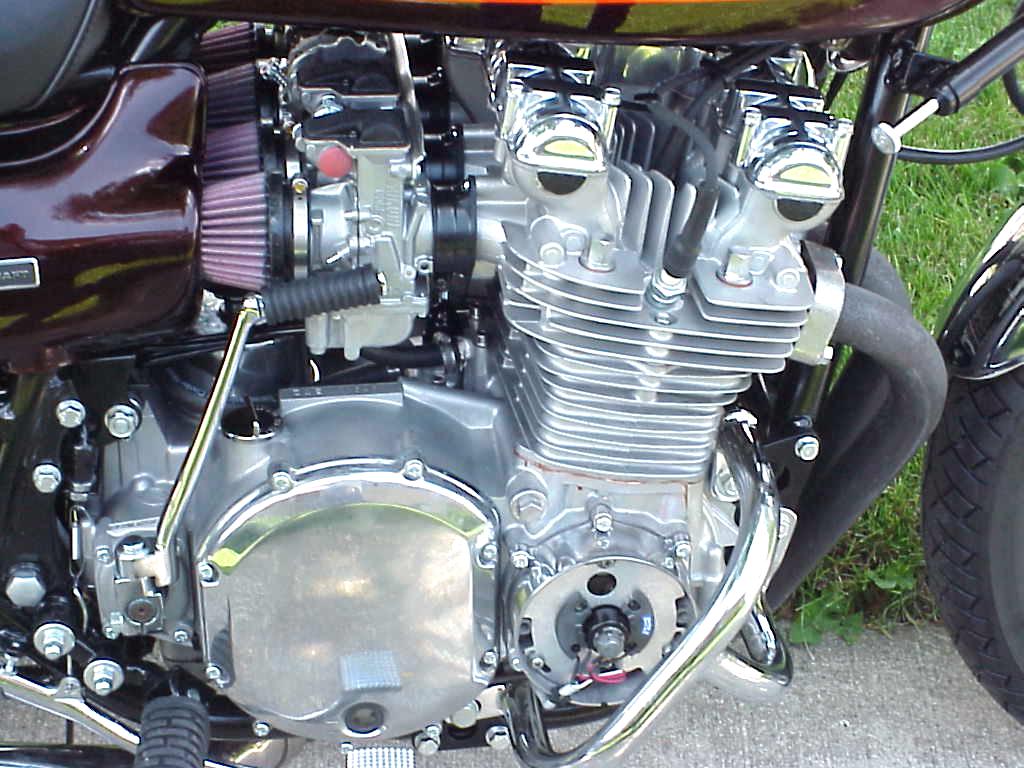 Engine has a bead-blasted finish with professionally polished
covers. The higher performance engine features a welded Z1 crankshaft,
74mm custom-made Arias pistons, and a set of special cams
(made for us by Web-Cam), which have different exhaust / intake specs -
that we have used with great success on 1075cc performance engines in the past.
The extra 2mm bore / 60cc will add more power on this motor...
Along with a host of other perfomance options.... Including
Mikuni RS36 flat slides.....

The body set features the 1974 "Candy Brown Orange" scheme -
which consists of all new pieces supplied and custom painted by PMC of
Japan, which is where we got them.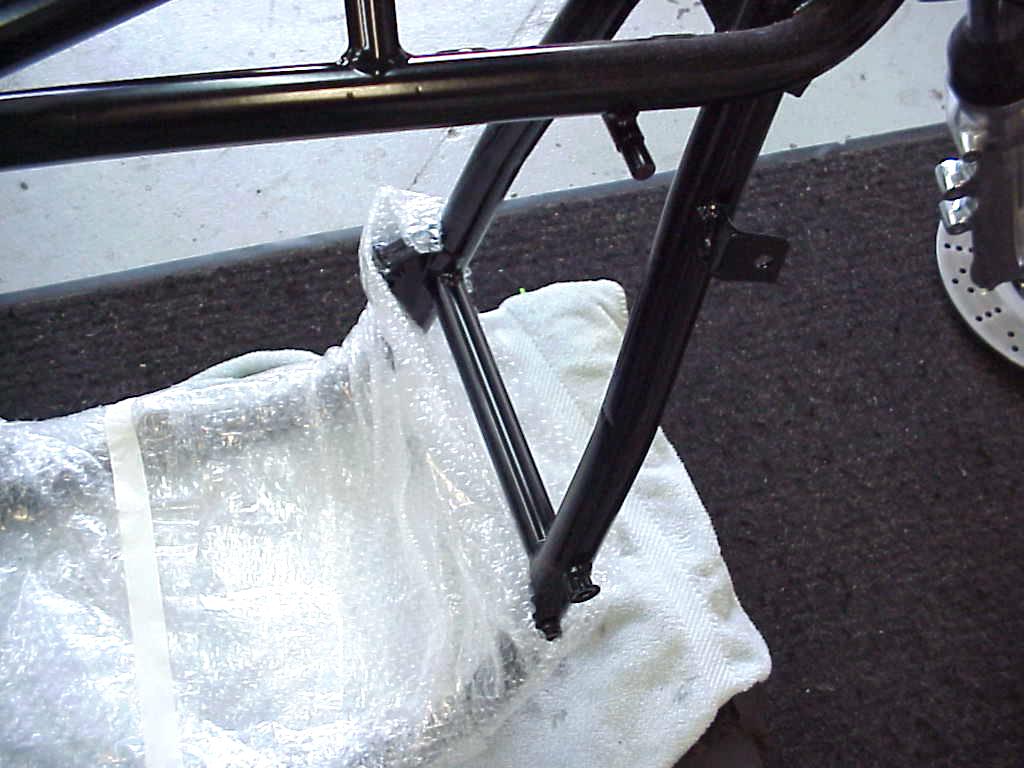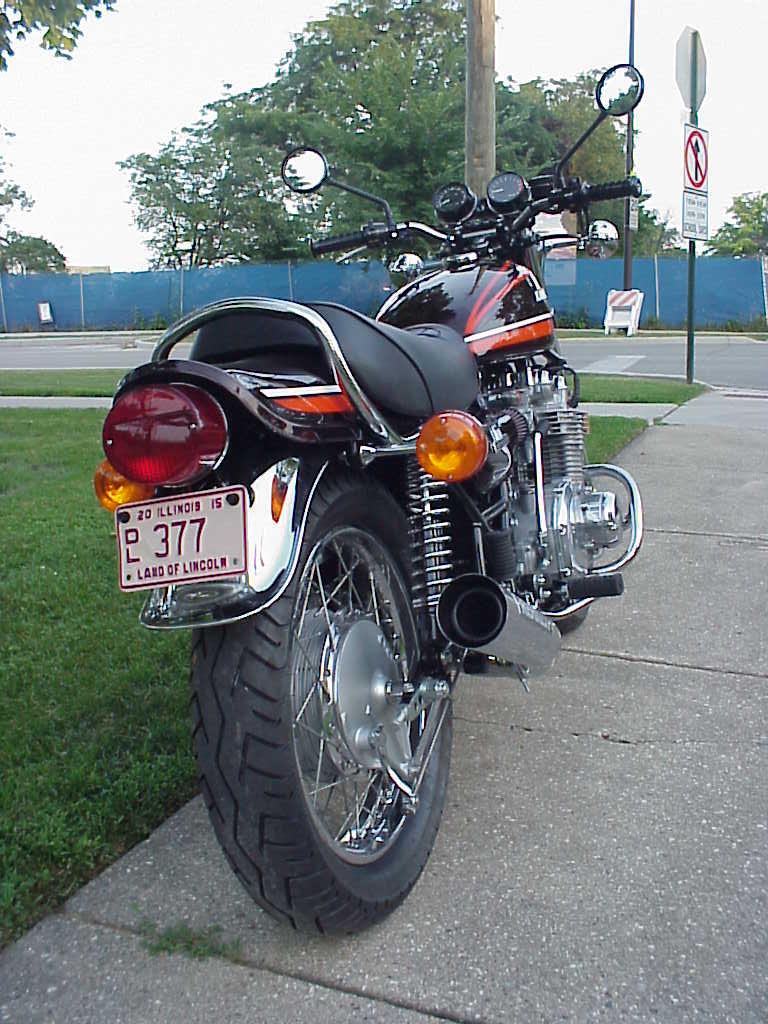 Finished product has a Kerker 4 into 1 pipe
with the large comp baffle - GREAT SOUND !!
e-mail us at > jim@redlinecycle.com