Redline Cycle Service, Inc.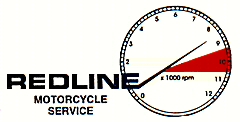 Back to Main Catalog Index
Voltage Regulators
Redline has always been known for troubleshooting and repairing charging systems, not only in
our Kaw 900 & 1000 specialty field, but all street bikes. In addition to the parts listed below, we have
a huge supply of good used charging system parts on hand for many bikes......all tested and guaranteed
for a full year from the date of purchase........Just ask!!
Bring your old Kaw into the 21st century with this combo
voltage regulator and rectifier........
Very high quality - Made in Japan......This unit takes the place of the original rectifier and regulator.....Mounts to the original location of the voltage regulator, and with the provided adapter, plugs right in to the existing stock wiring on your bike......For all 1973 thru 1978 900 & 1000 models....
Far better than the OEM parts, this combo unit provides for higher charging at low rpm, and better regulation of the current.......
Provided with all necessary wiring and adapters for your specific model.........And, although they are new, we check each one for proper operation prior to shipping. Guaranteed for 1 year.......

Special Order from Redline Cycle
$189.95



Skokie, IL, USA
Phone: (847)675-2020 Fax: (847)675-2027 Toll Free: (877)271-9292
E-Mail Redline Cycle