Redline Cycle Service, Inc.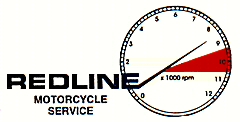 Back to Main Catalog Index
Rectifiers / Voltage Regulators / Combination Units
Redline has always been known for troubleshooting and repairing charging systems, not only in
our Kaw 900 & 1000 specialty field, but all street bikes.
***If you own a 1976-77 Kz900, or an early 1977 KZ1000.....
Take a look at the bottom of this page......It might save your bike from a fire ......
__________________________________________________________________________________________
Bring your old Kaw into the 21st century with a combo
voltage regulator and rectifier........
Very high quality - Made in Japan......This unit takes the place of the original rectifier and regulator.....
Mounts to the original location of the voltage regulator, and plugs right in to the existing stock electro-bracket on your bike......
For all 1973 thru 1978 900 & 1000 models....Also available (special order) for 1979 & 1980 models.....
Note: 1978 and 1980 KZ1000D / Z1-R models require special mods to this unit for proper fit -
We will do this for you prior to shipping - The unit will mount in the original location....
This combo unit provides for higher charging at low rpm, and better regulation of the current.......
Provided with all necessary instructions for your specific model.....
Guaranteed for 4 years....... $189.95
Limited Availability, but usually In Stock
We have sold hundreds of these units over the last 10 years -
Without 1 failure due to the unit itself....
In addition to the parts listed below, we also have a large supply
of good used Kaw OEM charging system parts on hand for many bikes......all tested and
guaranteed for a full year from the date of purchase........Just ask!!
The 1976 and 1977 Kawasaki KZ900's, as well as some very early 1977 KZ1000's
were equipped with a silver, finned rectifier as shown in the pic at left. These units were defective,
and most of these units failed very early....most with the result of a simple battery discharge condition......
However, as seen in the pic at right, their failure can be worse than that!!
This KZ900 owner almost lost his bike when the defective unit caught on fire
while he was riding....... Given that the rectifier has a permanent hot (without the key even on)
amd a permanent ground, this could even happen while the bike is sitting in your garage. If you have a bike
so equipped, replace it, or at the very least disconnect it while the bike is sitting.....

E-mail us at > jim@redlinecycle.com