Redline Cycle Service, Inc.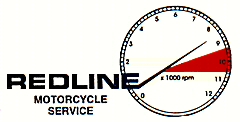 Back to Main Catalog Index
Valve Stem Seal
For all 1973 thru 1980 900 & 1000 models......

These aftermarket valve seals are excellent quality.........

Here is one place on the Kaw engine where we don't use the OEM parts.......These seals work as well as OEM, and the extra cost of the originals (double) just isn't worth it.

In Stock at Redline Cycle

$3.25 each
$24.00 per set of 8
Note:
The valve stem seal is one of the most critical, and most unique seals on an engine; Unlike most oil seals, it must provide for a "controlled leak" of oil - Allowing for lubrication of the valve stem, while not allowing oil into the combustion process in the chamber.....




Skokie, IL, USA
Phone: (847)675-2020 Fax: (847)675-2027 Toll Free: (877)271-9292
E-Mail Redline Cycle