Redline Cycle Service, Inc.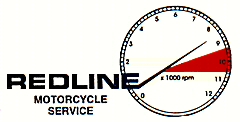 Kawasaki KZ1200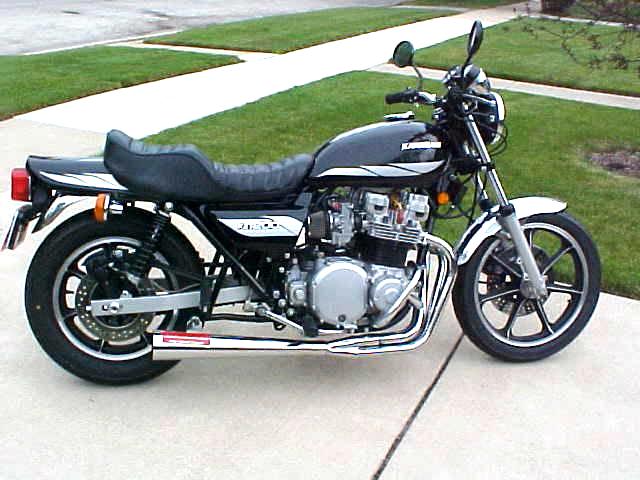 Redline's KZ1200 Project Bike as it appears today...........
..............assembled by Redline Cycle
This bike is not for sale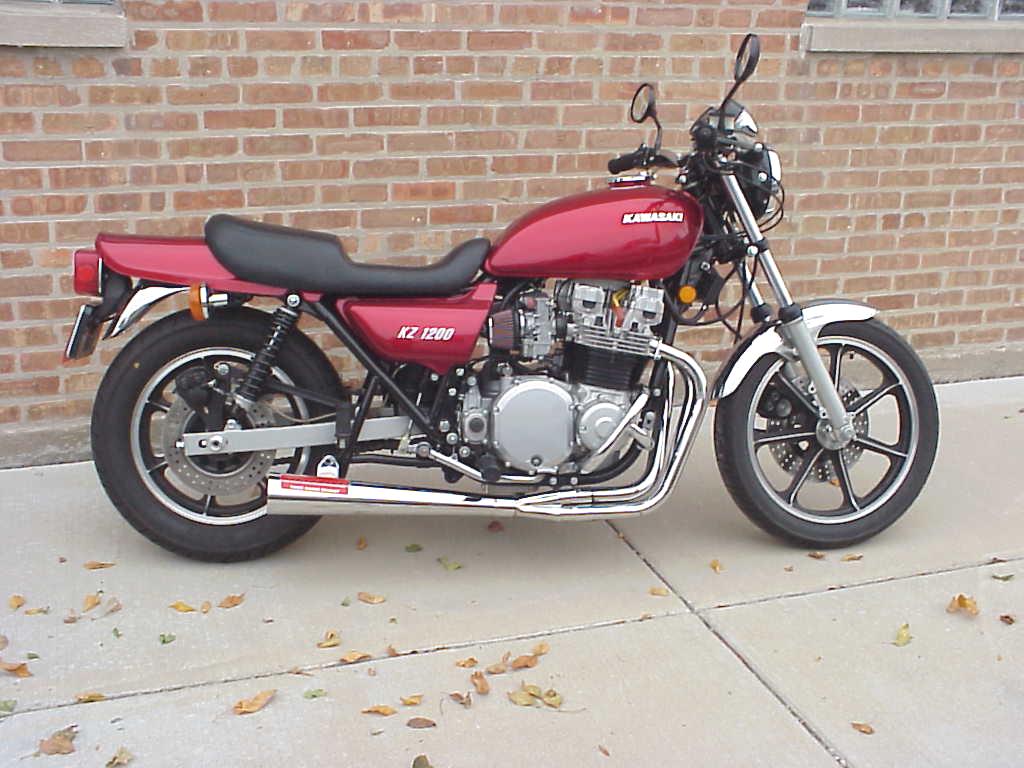 This bike was originally built at Redline Cycle in 1979, with a new frame from
Kawasaki, and 90% of the rest from spare parts off the shelves from our
parts inventory. The bike, in those days, was turbocharged.
Many of the parts used to build it are no longer available......
In 1996, We re-purchased the bike, and rebuilt it with a high-perf naturally aspirated engine.
In January 2007, upgrades were done to the bike. Engine mods were done to make it
more sreetable, and the chassis was upgraded with some of the parts we sell today.
Changes made in 2007 are highlighted in red below.
More Old Kaw stuff follows...
Click on link at bottom of page for more....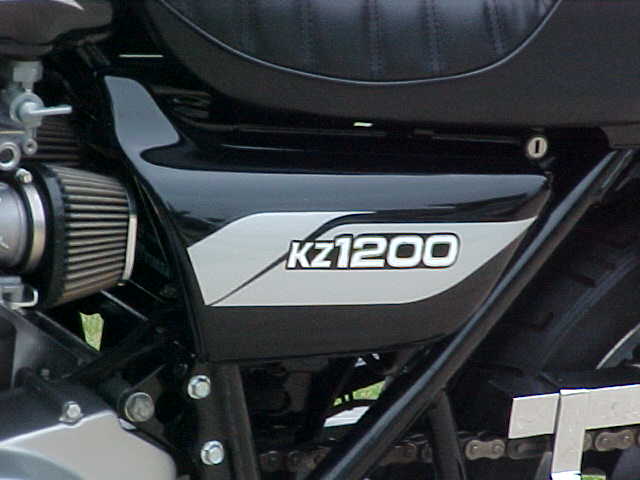 KZ1200 Engine:
Displacement: 1197cc
Lower End/Cylinder: 1978 KZ1000A
Cylinder Head: 1981 KZ1000M ("J" style) / cable tach drive
Compression Ratio: 10.3 to 1 (app)
Horsepower: 112.5 (dyno test Nov. 2005)
Camshafts: Andrews 3X / lobe centers @ 106 intake / 104 exhaust
Ignition Timing: 17 deg. BTDC @ idle / 37 deg. BTDC @ 2500 rpm
Valves: Kawasaki "J" stock 37 mm int. / 32 mm exh.
Lifters: Kawasaki OEM / shim under
Crankshaft: stock / welded pins $100.00
Main Bearing Bolts - Grade 8 $29.95
Camchain: Tsubaki H.D. $49.00
Cylinder Studs: Vance & Hines H.D. $69.00
Cylinder Head Nuts: A.P.E. Eng. / Burbank, Cal. $70.00
Breather Cover Caps: A.P.E. Eng. $70.00
Pistons: Wiseco Pro-Lite 13.5 to 1 $537.00
Head Gasket: Wiseco Compound $39.95
Cyl. Base Gaskets: Wiseco .020 (X2) $12.95 ea.
Cylinder Sleeves: A.P.E. Eng. $180.00
Cylinder Machining: A.P.E. Eng. $300.00
Cylinder head mods to fit early motor
A.P.E. Eng. $200.00
Valve work: Redline Cycle / 3 angle $300.00
Cam sprockets: V&H adjustable $59.00
Valve Springs: Web-Cam H.D. $89.00
Cylinder head mods to fit cams: Redline Cycle $195.00
Carbueretors: Mikuni VM36RS $795.00
Fuel Petcock: Kawasaki OEM / Modified to reverse $114.50
Air Filters: K&N Oval $179.95
Vent Filters: (Dual) K&N $26.95 ea.
Ignition: Dyna 3 (nla) $195.00
Ignition Coils: Dyna 2 ohm $140.00
Ignition wires: Accel 7mm wire core $30.00
Transmission: stock / undercut 2nd gear
Star Racing / Americus, Ga. $120.00
Modified oil pump / oil pan (remote intake)
Bill Hahn / Oswego, Ill. $425.00
Exhaust: Star Racing Street (nla) $509.00
Clutch: Barnett H.D. $120.00
Clutch Release Bearing: MTC H.D. $35.00
Powder coat engine covers:
Pro - Tek / Lemont, Il. $350.00

KZ1200 Chassis:

Frame: 1977 KZ1000B Ltd
Fork: 1978 KZ1000D Z1-R
Rear Wheel: 16" Ltd 1000
Front Wheel: 18" Z1-R 1000
Front Brake: 1978 KZ1000D (Z1-R) Sgl. Disc.
Rear Brake: 1977 KZ1000B1 (LTD) Drilled 1-2-1
Brakes Pads: EBC
Swingarm: Redline Direct Fit + 2 inch $699.00
Shocks: Progressive 12 Series / 13.0 inch $242.95
(spring retaining collars painted silver)
Shock Springs: Progressive 95/140 rate incl.
Rear Brake Line: Goodridge 23" $58.95
Rear tire: Dunlop 591 150/80-16 (nla) $166.00
Front tire: Dunlop 591 100/90-18 (nla) $120.00
Sprockets: Sunstar 15/33 $85.00
Drive chain: Tsubaki QR $88.00
Handlebars: Superbike $69.95
Seat: Special / 1977 KZ1000A / modified $320.00
Battery: Redline AGM $79.95
Powder coat frame & fittings: Pro - Tek $400.00
Painting: Andy Skic / Skokie, Il. $700.00


Redline's Kawasaki KZ1200 (after completion in 1997)
Go to Next Old Kaw Page
e-mail us at > jim@redlinecycle.com