Redline Cycle Service, Inc.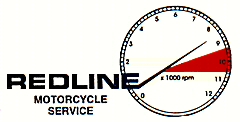 Any item shipped U.S. Mail / UPS to anywhere in the world
Meters - Reproduction Speedometer / Tachometer
Specifically for the 1976 thru 1980 900 & 1000 models (except KZ1000D3 (Z1-R) and KZ1000E (ST)....
This good-looking meter will also fit all 1973 thru 1975 Z-1 models
This very nice, new repro 160mph speedo is of excellent quality....... Stock cable drive ......
Note: Use of these meters requires a special meter bracket as Shown Here -
.......Sold @ 1/2 the cost shown with the purchase of these meters.
No "ND" Trademark on these, so may not appeal to the finicky restorer
Call for Info - toll-free 877-271-9292
Limited Availability / From In-Stock to 3 weeks wait....... $179.00
| | |
| --- | --- |
| >>> | >> |
Specifically for the 1973 thru 1978 900 & 1000 models (Except KZ1000D1 (Z1-R)
This meter will also fit all 1979 and 1980 1000's (except KZ1000D3 (Z1-R) and KZ1000E (ST)....
This very nice, new repro 9,000 rpm tach is of excellent quality....... Stock cable drive ......
Pic at left shows 1976 & later gauge - 1973 thru 1975 Z-1 meter on right has the Stop Lamp light in it......
Note: Use of these repro tachometers requires a major mod to the stock meter bracket, or is a direct installation
on the special meter bracket as Shown Here -
Call for Info - toll-free 877-271-9292
Limited Availability / From In-Stock to 3 weeks wait....... $179.00
Made as a repro speedo for the 1973 thru 1980 900 & 1000 Canadian, European, and Austrailian models (except KZ1000D / Z1-R models).....

Currently, this nice NEW replacement speedo is only available graduated in KPH........

Complete with gauge harness......
$219.00

Special Order from Redline Cycle ..... 2 to 4 weeks
Made as a repro tach for the 1973 thru 1975 Z-1 models, this NEW electronic replacement tach will fit all 1973 thru 1980 900 & 1000 models (except KZ1000D / Z1-R models).....

This tach has electronic accuracy, unlike the original tachs which "drag" and are known to read up to 1000 rpm too low in the higher ranges....Also eliminates the need for a tach cable & tach drive (optional).....

This tach has the "stop lamp" indicator as used on the Z-1's, but it need not be used on the later 900's and 1000's......

Complete with gauge harness......

Due to issues at the factory where these are made, they are N/A at this time - Currently, we have no ETA



Reproduction meter hardware set for all 1973 thru 1980 900 & 1000 models ......

Set includes 4 stud spacers, nuts, flat & lock washers, and 4 meter cushions.....As shown.......

Complete Set $17.95
1/2 (1 meter) set $10.95


In Stock at Redline Cycle
E-Mail us at > jim@redlinecycle.com