Redline Cycle Service, Inc.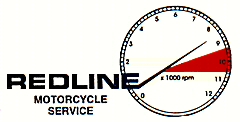 Any item shipped U.S. Mail / UPS to anywhere in the world
Grips: OEM Original / Repro / Aftermarket



For all 1976 thru 1980 900 & 1000 models (except KZ1000D Z1-R models).......

New Kawasaki OEM / NOS hand grips....... Special Order

Right side (Only available with throttle sleeve):
$62.95 ea.
Left Side (Grip only): $29.95 ea.

Yes - Kawasaki's prices on these got WAY out of hand, so we now sell the reproduction version of these for $42.00 per set .....
These repros do not come with the throttles sleeve. which you don't need anyway, and are easier to install!!



For all 1973 thru 1975 Z-1 900 models.....

Very nice reproduction Z-1 grip sets, Made in Japan....

Without a magnifying glass and a set of genuine Kaw Z-1 grips at hand, nodody could tell the difference betweeen these and OEM......

$34.95 per set

Limited Availability - From In Stock to 2 week wait...

High quality foam grips in 2 styles.....Smooth style and Grooved........Fit all 7/8 bars...
Grip sets come with left side adapter sleeve, right throttle end cap, and thrust washer....
Very comfortable and more weather-resistant than most foam types....Easy installation...
Smooth Style $15.95 per set Grooved Style $19.95 per set



For 1978 & 1980 KZ1000D (Z1-R) models.....

NO LONGER AVAILABLE .... 12/5/06

Kawasaki OEM / NOS hand grips.......

Right side (Only available with throttle sleeve):
NLA
Left Side (Grip only):
NLA
E-Mail us at > jim@redlinecycle.com