Redline Cycle Service, Inc.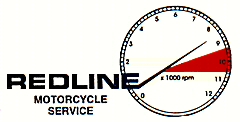 Any item shipped U.S. Mail / UPS to anywhere in the world
Fuse Boxes
Does your Kaw 900 or 1000 blow fuses, even though you've looked 10 times for bare wires everywhere
and can't find anything wrong? The fuse box itself could be causing the problem! Over time, resistance
develops at the terminal ends that the fuses clip in to. You can see the result of the heat created by this
by the partial melting of the fuse box case. And, melting of the plastic happens right where the fuse
terminals mount to the box, and the fuses won't even stay put anymore.
If this is your bike, do yourself a favor and put in a new box. The problem may have been right
there all the time.
This fuse box is a direct plug-in replacement for the 1976 thru 1978 Kaw 900 & 1000 models......

Fuse box comes complete with all new fuses and 2 spares: 1 X 10 amp and 1X 20 amp.......

In Stock at Redline Cycle
$54.99

In Stock at Redline Cycle

For the 1979 & 1980 KZ1000 Models...

With the rectangular plug in terminal block.....A direct plug-in replacement for most models* (see info below)


This very high-quality Japanese-made repro box comes complete with all new fuses and 2 spares: 1 X 10 amp and 1X 20 amp.......
$74.99

In Stock at Redline Cycle

E-Mail your order to us at > jim@redlinecycle.com