Redline Cycle Service, Inc.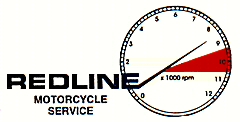 Any item shipped U.S. Mail / UPS to anywhere in the world
Redline Reproduction Fuel Tank Decals
Like we've said before - Don't let the word "decal" give you the wrong impression......
These look sharp!......And on the right bike, nicely painted and cleared over, they do the job!!!
$6.95 Priority Mail shipping gets these to anywhere in the U.S. in 1 or 2 days.....
Call us toll-free at 877-271-9292.....
>>>>>
These high-quality decals are made to the exact size and color format of the original fuel tank emblems which were used on all Z-1, KZ900A, 77-78 KZ1000A, and 78 KZ1000D (Z1-R) models....But they look good on any tank.......

Black background, white interior lettering, and flashy chrome border - just like the real thing (but $77.00 cheaper)......The right trim for the right bike......

In Stock at Redline Cycle

$22.99 per pair

>>>>>
Reproduction fuel tank decal for the 1979 & 1980 KZ1000 Models....

White letters / Black background / Chrome border


$22.99 per pair



In Stock at Redline Cycle



Skokie, IL, USA
Phone: (847)675-2020 Fax: (847)675-2027 Toll Free: (877)271-9292
E-Mail Redline Cycle