Redline Cycle Service, Inc.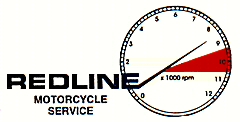 Any item shipped U.S. Mail / UPS to anywhere in the world
Frame Thread Repair
Are any of the spot-welded nuts that secure your tail section damaged or broken off?......It's common - And not only in this area of the frame.......

Quick / Professional Fix!!.....

These unique, high-quality fasteners slide over the flat at the damged area, and instantly return it to the original 6mm X 1.0 thread......

If the nut is already gone, just slide it on...... If the nut is stripped, knock or grind it off and then slide it on.... EASY!

$8.95 each clip
Limited Availability

In the pics below, the tail securing nuts on the rear of this KZ have been totally boogered up......Nothing left........
Slide the repair clips on, and it's back to original thread in 20 seconds!



Redline Cycle Service, Inc.
Skokie, IL, USA
Since 1976
Phone: (847)675-2020 Fax: (847)675-2027 Toll Free: (877)271-9292