Redline Cycle Service, Inc.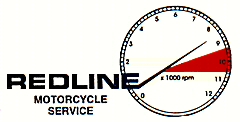 Any item shipped U.S. Mail / UPS to anywhere in the world
Fuel Tank Dampers /Sidecover Grommets
For all 1973 thru 1980 900 & 1000 models ........

Kawasaki OEM fuel tank rubber parts......

Missing or worn out tank mount parts can really be rough on that gas tank ....... Do it right ........

Top: Front tank mount rubbers (2 per bike).......Note: These front mounts should have a 10mm I.D. flat washer behind them for proper fit .......
$8.99 each

Center: Rear tank dampers (2 per bike) mount around the upper frame tubes ....... These should be secured to the frame rails with cable ties to prevent riding backward or forward on the tubes .......
$12.99 each

Bottom: New repro rear tank strap (1 per bike) .,....These attach to the pegs at the bottom rear of the upper frame rails ,.....
Currently N/l/A

In Stock at Redline Cycle
New Kawasaki OEM side cover grommets for mounting original or aftermarket Kaw body sidecovers.

Get rid of those old grommets before you lose a sidecover on the road.....or before you lose another one.

6 required per bike / all models.

In Stock at Redline Cycle

$2.75 ea.



Redline Cycle Service, Inc.
Skokie, IL, USA
Since 1976
Phone: (847)675-2020 Fax: (847)675-2027 Toll Free: (877)271-9292