Redline Cycle Service, Inc.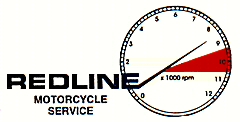 Any item shipped U.S. Mail / UPS to anywhere in the world
Modified Clutch Hubs
Redline has done R&D work on these high-strength KZ clutch hubs for street use....
..... These items don't have the negatives found in some of the drag race hubs.........

There are a lot of outfits that strengthen Kaw clutch hubs ...... But >
We are the only one that has them balanced -
A non-balanced clutch outer hub may be OK for a drag bike -
But on a street bike an un-balanced hub wil create
an annoying vibration at certain rpm's .....

Ours is as smooth as a stock Kaw hub .....

As we often say....."We don't sell what we don't use"............
Stock hubs are disassembled, strengthened with better springs, balanced, and re-assembled.
Much stronger than the stock hubs.......
Core hub required.......
$589.00 + core hub

While often in stock, there can be up to a 4 week wait on these hubs......

E-Mail us at > jim@redlinecycle.com