Redline Cycle Service, Inc.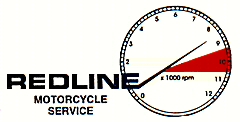 Any item shipped U.S. Mail / UPS to anywhere in the world
Mikuni VM29 Tech
These high-performance carbs made by Mikuni from the mid 1970's thru the late 1980's
have much better flow characteristics, and GOOD SETS have the potential to deliver more power than stock carbs can.
They also, in most circumstances, are a direct bolt-on installation for all 1973 thru 1980
Kaw 900's and 1000's. They were also made in variants for the Suzuki GS and Honda CB models.

Over the last few years, These carbs have - Without Merit - attained a largely un-deserved
lofty reputation - - They are not perfect, and have their shortcomings -
and at the same time prices have gone through the roof - - OFTEN WITHOUT ANY GOOD REASON
30 years after Mikuni stopped making new sets -
Even new each of these sets had their own individual "personality" -
Some better that others - Some not much better, if better at all that stock Mikuni 26's and 28's
Keep in mind that Mikuni sold these as RACE carbs - - Some had poor low speed characteristics and poor idling - Even new!!
>>> Factors that are important on a street bike

MANY, if not most of the remaining sets are far from what they were new -
- - Many mis-worked over the years - - repairs done un-professionally due to parts
becoming N/A over time - - By our estimate 50% of the renaining sets of VM29's you see offered are JUNK -
BE CAUTIOUS !!

And by comparison to other modern performance carbs, even good sets of 29's are
cave-man level compared to other carbs we can provide today - - For which EVERY PART is still
available new -

The Mikuni 29mm smoothbore carbs are very similar in appearance to the Mikuni VM26
& VM28's which were used on 1976 thru 1980 Kawasaki 900's and 1000's......
But they actually differ internally in many ways from the stock 26's and 28's......
One of the most important ways they differ is that they are more fragile
to work with than the stock carbs.....
As a result of mis-handling by inexperienced mechanics, many used sets are damaged....
The venturi of a VM29 carb is shaped by the piece shown above, called the "jet block". The main jet / needle jet
tube of a VM29 threads in to the threaded neck of the jet block, seen protruding in the pics left / center.

Overtightening the main jet or the main jet tube while servicing a VM29 can crack the neck of the jet block,
as shown in pic at right, causing the carb to perform badly......
This is something that wouldn't happen with a set of stock VM26 / VM28 carbs......
These pieces are no longer available new, and very hard to find........
An inexperienced tech servicing VM29's will often destroy them without even knowing it by doing this....
Most used sets have at least one broken jet block neck.....
This can only be found by totally knocking down the carbs.....and knowing what to look for....

E-Mail us at > jim@redlinecycle.com