Redline Cycle Service, Inc.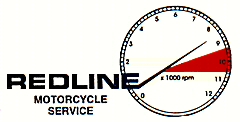 Back to Main Catalog Index


Kawasaki 900 / 1000 Carb Service & Repair


We work on carbs from all models of 1973 thru 1980 Kawasaski 900 & 1000

Send us your carbs to have them serviced -

What makes us different than the other 50 guys online who "rebuild" Kaw 900-1000 carbs?

......Aside from our 45 years of experience with these bikes......

"Rebuilding" a set of carbs means more at Redline than just making them look good,
and replacing a bunch of parts - Our customers can do that -
We make them run the way they're supposed to - Not everyone can do that.....

And the only way that can be done is to take your
carbs out on the road and run them -
- - - Prior to sending them back to you,
And that's what we do !
Because that's the only way you really know if you've got them right,
and the customer will be satisfied with them!

The one major factor that distinguishes us from the other outfits is that we actually test & tune the sets
of carbs we service > out on the road on test bikes - -
That we have specifically for that purpose -


Any outfit that doesn't is wasting their time
and your money

E-mail us for info at > jim@redlinecycle.com
Redline Cycle Svc., Inc.
Illinois / Arizona


Redline Cycle Service, Inc.
Contact us by e-mail at > jim@redlinecycle.com