Redline Cycle Service, Inc.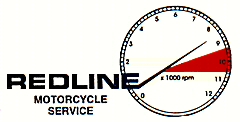 Any item shipped U.S. Mail / UPS to anywhere in the world
Front Master Piston Seals / Rebuild Kits / Misc. Parts
Kawasaki did not make complete rebuild kits for all the master cylinders on the 900's and 1000's....
In those instances where complete kits aren't available, we stock individual parts to get the job done...
In time, our entire inventory will appear on this page......If you don't see what you need,
Call us toll-free at 877-271-9292....


....................
Kawasaki OEM NOS front master cylinder rebuild kit for all 1973 to 1977 Z-1 & KZ900's, and for 1977 KZ1000A models......

Everything you would normally need to service these masters......

The aftermarket kits are cheaper - - >because they aren't as good.

In Stock at Redline Cycle
$59.95


..........................
Kawasaki OEM rebuild parts for the 1978 thru 1980 KZ1000B (LTD) models with the trapezoid front master cylinder.....(not available as a kit).......Note: The retainer for these pistons is plastic and usually re-useable.....

Top: Piston & Seal Assembly..... $59.99

Bottom Left: Stopper...... $4.79

Bottom Right: Piston Boot...... $6.89

In Stock at Redline Cycle


..........................
Kawasaki OEM NOS front master cylinder rebuild kit for all 1976 KZ900B (LTD) models, and for 1977 KZ1000B models....Also for the rare front master cylinder which came with the Kawasaki OEM Dual Disc Kit made in the mid to late 1970's....

Everything you would normally need to service these masters......

In Stock at Redline Cycle
$64.95


........................
Kawasaki OEM rebuild parts for the 1978 KZ1000A models (single disc) with the trapezoid front master cylinder.....(not available as a kit).......Note: The retainer for these pistons is plastic and usually re-useable.....

Top: Piston & Seal Assembly..... $71.99

Bottom Left: Stopper...... $4.79

Bottom Right: Piston Boot...... $6.89

In Stock at Redline Cycle



................................................................No Pic Available
Kawasaki OEM/ NOS front master cylinder piston & seal assy. - For all Z1-R models.....

$69.95

In Stock at Redline Cycle



..........
For all trapezoid master cylinders (1978 to 1980 1000A and 1000B models)....

The o-ring that sits under the plastic reservoir on these master cylinders often leaks due to age......This part is not and never was available from Kawasaki.....

We stock a high-quality replacement o-ring to fix this problem......Exact diameter and width needed, and resistant to expansion from brake fluid.....

No, you can't get one of these for 15 cents at Home Depot....... $10.99 each

Not Available for front round single or dual-disc masters (1977 KZ1000A and B/Ltd models)......

In Stock at Redline Cycle



If you're going ito service your 1973 thru 1977 OEM front master,
the odds are high that the retaining clip will be trashed getting it out ........

We carry the repacement clips ......,..

1 per master cylinder $1.99 each
E-Mail us at > jim@redlinecycle.com