Redline Cycle Service, Inc.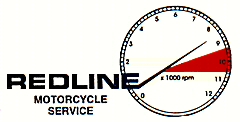 Cycle Towing / Engine Shipping
On a local level.....
Redline has the ability to pickup and deliver any motorcycle...safely.... to anywhere in the Chicago Metro area....and beyond. Any vehicle we carry is fully insured at all times....from the time we begin loading it to the time we deliver it.
We use trailers specifically made to carry bikes of all sizes, and their design provides for easy loading and unloading, minimizing the risk of damage.
Between service, purchasing of motorcycles, and delivering motorcycles we have sold, we have towed as many as 600 bikes in a single year.
On a national level......
We buy and sell motorcycles nationwide.
Our immediate capabilities provide for motorcycle transport throughout the Midwest and Great Lakes regions.
Outside of this area, we can arrange for pickup and delivery of any motorcycle through trucking companies who operate coast to coast, Bikes are shipped in enclosed moving vans and are totally secure. Redline can pickup or ship any motorcycle to anywhere in the U.S. - rates available on request.
Engine shipping.....
Redline receives requests for Kawasaki 900/1000 engine work from all parts of the United States. and beyond. Other components are also sent to us on a regular basis for rebuilding and repair - - Including sets of carbs and cylinder heads. Certain areas of the U.S. are easier than others for us to pick up and deliver from. E-Mail us your location and specific needs.
e-mail us at > jim@redlinecycle.com