Redline Cycle Service, Inc.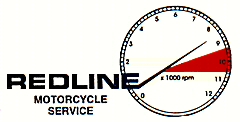 Back to Main Catalog Index
Chrome Finned Engine Covers
These high quality covers are made in Japan......We import these from the same manufacturer
that made them in the mid 1970's to the late 1980's......
These are Special Order Items, and Availability is Often Limited - Call for Info
We don't recommend items that we don't use ourselves.......We often use these covers on our project bikes.
Finned covers are sold individually and as sets......Pics of covers on a bike at bottom of this page....
Please note that sets will only fit the 1973 thru 1978 models
And......New mounting screws add a nice touch...... Click here to check out our selection....
And.....We stock all the gaskets for these covers.... Click Here to check them out.....
These finned dyno covers will fit all 1973 to 1978 900 & 1000 models.... using the external stator windings....
Stator is an excellent fit, and the gasket surfaces very nice....
A good alternative to the stock cover - which are expensive to chrome, and hard to find one good enough to chrome in the first place....

$214.95

See pic of this cover mounted at bottom of this page....

Special Order / Limited Availability
This clutch cover will fit all 1973 to 1980 900 & 1000 models.....
High quality cover has good fit for the oil window, and good gasket surfaces.
If you will also need a new oil window when installing this cover (recommended).... We have them!


$164.95

See pic of this cover mounted at bottom of this page....

Special Order / Limited Availability
This outer point cover will fit all 1973 to 1980 900 & 1000 models, and will also fit the 1981 to 1985 1000 and 1100 models.....


$70.95

See pic of this cover mounted at bottom of this page....

Special Order / Limited Availability
Clutch adjuster cover fits 1973 to 1978 900 & 1000 models....


$58.95


See pic of this cover mounted at bottom of this page....

Special Order / Limited Availability
For all 1973 thru 1980 900 & 1000 models.....
Finned starter cover replaces the original starter cover (which is now no longer available new).......
These are made from the original molds, and the flat areas at the mounting screws are somewhat rough, but easily covered with chrome flat washers....Which we supply with the cover


$79.95

See pic of this cover mounted at bottom of this page....

SSpecial Order / Limited Availability
$574.95
5 piece set

Special Order from Redline Cycle.......

Special Order / Limited Availability



Skokie, IL, USA
Phone: (847)675-2020 Fax: (847)675-2027 Toll Free: (877)271-9292
E-Mail Redline Cycle