Redline Cycle Service, Inc.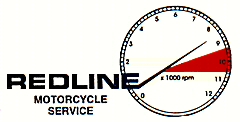 Any item shipped U.S. Mail / UPS to anywhere in the world
Speedometer / Tachometer - Restored - -
Note: We no longer provide this service - This page
left on our site for reference only
For a variety of reaons, we stopped restoring meters in 2012 -
We now sell the new, reproduction gauges, as seen here
> Repro Meters
For all 1973 thru 1980 900 & 1000 models........

Making those old gauges look good again is one of the toughest parts of restoring an old Kaw.......New originals, when available, are way too expensive......And only a few new meters are available through the aftermarket.......

We do gauge restoration on a limited basis. This is a major undertaking as these units were never made to be disassembled or serviced.

The 1978 style KZ1000 meters shown here have been completely restored, with new glass and drive units,


Call us toll-free at 877-271-9292 to discuss options for your bike......
E-mail us at > jim@redlinecycle.com